McLean Brothers Poland Sp. z o.o
THE HIGHEST QUALITY – PROFESSIONALISM – TRADITION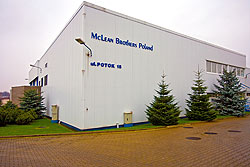 The Company Mclean Brothers Poland – one of the biggest world's leaders in capture, processing and fresh water fish sale. The Company exist in Poland since 1991 basing on local raw material and tested Canadian know-how technology.
In our offer you will find fresh and frozen Perch and Pikeperch fillets in wide size variety from the highest class raw material, hand filleted. Observing the best fish selection and observing on each part of processing process quality control procedures, our products enjoy rising popularity in the country and abroad, they keep for a long time perfect taste and freshness.
The Company McLean Brothers Poland is world's leader in production, processing and export fresh water fish fillets. The Guaranty of observing European quality standards is certificate number EU 32621801 wchich enable export on EU, Switzerland and North America markets.
Buying McLean Brothers Poland Ltd products you are always sure that:
- It was made of first class fresh and quality raw material;
- It is full natural and comes from the cleanest water reservoirs;
- It was made in strict temperature-time regimen;
- from capture to final product supply was kept the most strict quality standards.
THE QUALITY YOU CAN TRUST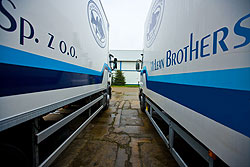 In McLean Brothers Poland the quality of obtained raw material is the most important. Our products are obtained from the best quality Perch and Pikeperch to enjoy excellent taste.
Carrying for our customers satisfaction we implemented Hazard Analisys Critical Control Points system HACCP also Good Manufacturing Practise GMP, Good Hygienic Practise GHP, which let us achieve the best product quality. Past delivery fish are submited to penetrating evaluation and sorting according to size and kind.
During all technological process the highest hygienic standards are observed. We use only safe, atested tools and auxiliary materials and during all processing process is maintained temperature which keeps proper freshness of products.
The quality policy of our company assume observing of the highest production standards, starting from raw material receipt till it's delivery to the customer. We have our own specialistic transport base which guarantee fast dellivery and ensure proper transport conditions with observing European Union standards of food hygiene.
Permament temperature monitoring, analysed procedures on each production stage, systematically done controls and permament control of vet service provide splendid taste and long freshness of fish.
Part of the car fleet was purchased with co-financing of the European Union from financial resources of the European Fisheries Fund, providing investment in sustainable fisheries.