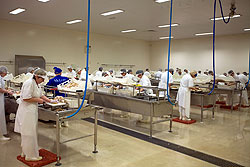 1. Company "McLean Brothers Poland Ltd." is buying raw material only from well checked sources which giving guaranty of deliveries with the highest freshness fish properly stored and loaded on specialistic cars keeping proper temperature and with all HACCP norms.


2. Raw material accepted into the plant goes through two degree quality control – whole raw material is accurate checked.


3. During production process are used only safe auxiliary materials (with atest), means and direct, indirect tools.


4. Permament temperature monitoring, implementation of Good Manufacturing Practise rules, Hazard Analisys Critical Control Points, systematically done controls and permament supervision of vet service let us to realize and keep assums of our company quality policy.