1989
Estabilishment of Company "Cer-Mac" Ltd., by incorporation of "Certa" and Company McLean Brothers fisheries Inc. Many years experience in perch capture of both companies and big technological capital of Canadian partner let achieve common aim – ennoble of Polish perch and other fish sold on West market.

1993
Formation of trade office of "McLean Brothers Poland Ltd".
1997
Strart of bulding works of modern production shop/hall.

1999
Merger of companies "Cer-Mac" and "McLean Brothers Poland Ltd".
1999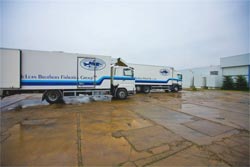 Opening of modern production plant meeting standards of European Union. Granting entitlement for products export into European Market via givinig EU number 32621801. Introduction of HACCP system.
Basic objective of company work is production of the highest quality fresh and frozen fillets from Perch and Pikeperch.
In connection with narrow specialization and permament striving to the best products quality, we are systematically improving quality management system. This is the reason our products are characterized of the best world's quality in their class and got our customers recognition.